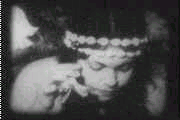 Friedrich Wilhelm Murnau is one of the most important filmmakers of the cinema's first thirty-five years. He is often grouped with Fritz Lang and G.W. Pabst as the "big three" directors of Weimar Germany. He finished his career in Hollywood and died at a young age in an automobile accident. Three of his films routinely appear on "The Greatest Films" lists of critics and film groups. He is one of the few filmmakers to whom the label "poet" can inarguably be applied. And yet there seems to be little written about him, little that gives his work and career the notice it deserves.
Murnau's work is difficult to pigeonhole. Early in his career he created one of the first classics of the horror film, Nosferatu (1922); his last film was Tabu (1931), a near-documentary shot in the South Seas without professional actors. He was a pioneer in the technical side of the medium, exploring special effects in Nosferatu and Faust and the use of the moving camera in The Last Laugh and Sunrise. But at the same time he was a master storyteller, a director who could imbue simple stories with an immense range of emotion and meaning.
This site is not intended to be an exhaustive or scholarly site. It's merely a love letter about the films of a long-dead person whose work I greatly admire, and that has deeply influenced me.
Here are some upcoming Murnau film screenings:

Detroit Film Theatre, Detroit, MI

F.W. Murnau's "The Last Laugh" with live piano by David Drazin

4:00 p.m. Eastern Daylight Time, Sat., March 20

Thanks to Carol Seymour for this information!




Web of Murnau is a proud winner of A Very "Sheik" web site award.

Copyright © 2000 John Akre


"Web of Murnau" has been on-line since November 1997
This page last updated 15 March 2010

http://www.sloppyfilms.com/murnau/index.html