Wargoon Flishe Watch is something of a production diary. It is a blog written by the fictional character Dr. Hubert Zork, who believes that he invented the animator, known to him as the fictional animator Akre. It started when the film was already under production, and kind of peters out into a daily pome.

Diary entries are to be found mostly in the following months: February 2006, March 2006, April 2006, May 2006.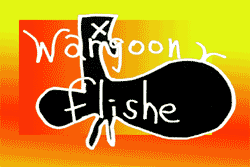 Here is an excerpt:
Monday, February 20, 2006

The Project


I invented a new way to play the clarinet today, and completed my article on "The Use of the Letter Z in the name of Mezz Mezzrow."


In other news, my fictional creation John Akre continues to work on his animated feature film, "Wargoon Flishe." He began work at the first of January, and has about 25 minutes animated so far in his primitive animation style.


I have been watching him over his shoulder. He has made many documentary projects but not so many animation projects, and certainly not a feature length animation. In his documentary projects he thinks he tries to empathize with his subjects in some way, even tho that is completely impossible. To attempt to empathize with the fictional animated characters he is creating, he has charged me to make him into a fictional animated character. In this online document, I will try my best to bring some sort of sense of life to his flat two dimensional sketchness.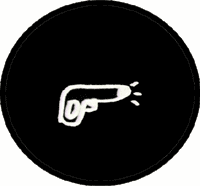 Tuesday, February 21, 2006

locatiamation


Dr. Zork here. Yesterday I continued my progress in my new method of playing the clarinet, but I must speak of that later for today I am charged by the fictional Akre to report on his animation project.


He is learning by making. He is reading books on animation to see what he is doing wrong as he is doing it. He has three animation techniques that he is using to create his omnivorous animation universe, and these are, the After Effects method, the Photoshop method, and the Locatiamator method.


Today I will expound briefly for him on the concept of Locatiamation.


Simply, if anything can ever be considered simple, Locatiamation is the science of animating on location. This allows the animator to breathe the fresh or polluted air and to see the sunshine now and then. Animation can be a lonely indoor process. Locatiamation can make it a lonely outdoor process too.


Locatiamation, as practiced by the fictional Mr. Akre, is very simple. He makes animated frames on post it notes and then places them on a piece of glass. The real world acts as a frame outside the post it note frame of animation. The animator is in effect animating his own box world of yellow and the real world as well in frame.


His animation style is all very simple. He is making cave paintings to go with his cave story. More on the story in coming entries.
Written in sincerity and with fingers, Dr. Hubert Zork.

Contact: E-mail me