Wargoon Flishe was called, "hypnotic and completely overwhelming," by City Pages writer John Behling, who said it included "mind-bending feats of creativity." In Northeast Beat, writer Dan Haugen said, "the animation style is bizarre and nontraditional, to say the least." And Chuck Olsen of Minnesota Stories called it an "animated masterpiece." Wargoon Flishe was an official selection in the Calgary Fringe Film Festival and was shown on August 12. It also showed as part of the Home Grown Cinema Series at the Parkway Theatre on June 2, 2008.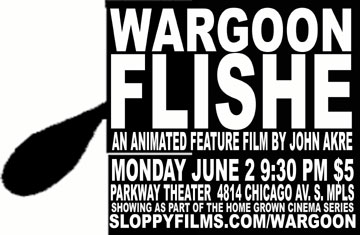 Wargoon Flishe is both the name of the movie and the name of the central heroic character of it. Wargoon is a hero out of ancient myths, but one slightly updated to this age of commerce and mass media. He rises to greatness by virtue of cannibalism and arrogance.


His story is a movie like a cave painting drawn on magazine advertising.


Animator John Akre used a variety of animation techniques to create the movie. He also narrates the film, provides the voices for all the characters, and voices the sound effects.

Here's what the City Pages had to say about Wargoon Flishe.
Northeast Beat interviewed me about my animation techniques.
Minnesota Stories featured the Wargoon Flishe trailer.
I now have a big box of copies of Wargoon Flishe. Email me if you are interested in one.
I would like to thank everybody who came out to the special screening of Wargoon Flishe at the Ritz Theater in Northeast Minneapolis. This screening was a fundraiser for the Ritz, and nearly $600 was raised that night! A special thanks goes out to Mike Romens!