Sloppy Films Animation Station at Northrup King Building
Here's the video created during Art-A-Whirl 2016.
Here's a look behind the scenes making the animation during Art-A-Whirl 2016.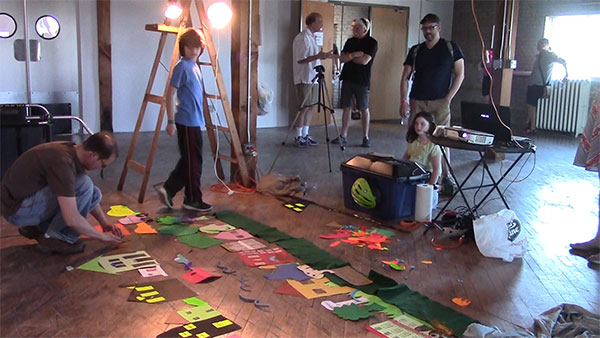 Northeast Minneapolis animator John Akre installed his Sloppy Films Stop Motion Animation Station in the Northrup King Building Room 400 during Art-A-Whirl. He worked on a gigantic stop motion animated film and invited anybody dropping by to help create the film. He was there on Friday, May 20th from 5 to 9 pm, Saturday, May 21st from noon to 7 pm and Sunday, May 22nd from noon to 4 pm.
The animation created will be part of an animated film that is to be called, "Minneapolis Beneath the Asphalt."
The Sloppy Films Animation Station is a stop motion animation studio that uses a large space on the floor to create animation with paper cut-outs and even people. Art supplies were available for adults and children to create art, people, and other props that were animated on the floor to tell the story of how the city of Minneapolis evolved from prairie and forest to buildings, streets and people, and to imagine in animation how the city might evolve from what it is now.
John Akre is a fiscal year 2016 recipient of an Artist Initiative grant from the Minnesota State Arts Board. This activity is funded, in part, by the arts and cultural heritage fund as appropriated by the Minnesota State Legislature with money from the Legacy Amendment vote of the people of Minnesota on November 4, 2008.
Here's a look at what we created during Art-A-Whirl 2015:
Here's a look at what we created during Art-A-Whirl 2014:
North by Northeast at Art-A-Whirl 2014
Here's some of the videos I made at past Art-A-Whirls: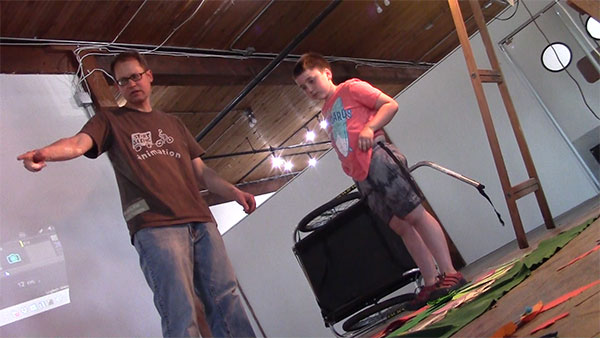 Special thanks go out to Debbie Woodward at the Northrup King Building for making the space available for this activity! Also thanks to the Northeast Minneapolis Arts Association for providing funding for art supplies!